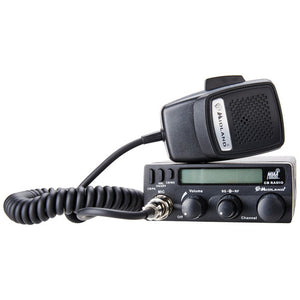 40-Channel Citizen Band Radio
4W Output Power with Digital Power Meter
Weather Scan Technology with Scan Button
Backlit LCD Display
Easily mountable with the included bracket and hardware, the 1001LWX 40-Channel CB Radio from Midland is a compact 40-channel Citizen Band radio featuring an easy-to-read, backlit LCD screen and weather scan. This 4W radio has three knobs for quick adjustments of volume, squelch control, and channels.

Press the WX Scan/CB button to begin the weather scan feature and the radio will lock onto the first strong weather channel signal to provide accurate, current weather reports and conditions. Simply press the button again to resume CB functionality. The included PTT electret microphone connects to the front of the radio, while an external speaker (available separately) can be attached to the back. Also located on the back of the radio is an antenna jack and a PA jack.
40-channel CB radio with push-to-talk microphone
Weather scan technology locks onto the strongest station for accurate weather reports
Uses National Oceanic and Atmospheric Administration (NOAA) national weather service
Backlit LCD display for easy visibility
Digital tuner with channel knob
Squelch control knob reduces background noise
Automatic Noise Limiter (ANL) switch reduces ignition noise
Public Address (CB/PA) switch to allow broadcasts to an optional PA speaker (available separately) via the PA jack.
CB Receiver
| | |
| --- | --- |
| Sensitivity | At 10 dB S/N: 0.8 uV |
| Selectivity | 45 dB + 10 kHz |
| Squelch | Range: 0.8 to 1000 uV |
| Audio Output Power | 3 W at 8 Ohms (10% distortion) |
| Distortion | At 1000 mV: 3% |
| Audio Frequency Response | 400 to 2400 Hz |
| Intermediate Frequency (IF) | 10.7 MHz, 455 kHz |
| Spurious | > 40 dB |
Transmitter
| | |
| --- | --- |
| RF Output Power | 4.0 W |
| Frequency Tolerance | 0.005% |
| Harmonic Suppression | > 60 dB |
| Modulation | AM 90% (± 5%) |
Weather Receiver
Channels
162.400–162.550 MHz:
Channel 1: 162.400
Channel 2: 162.425
Channel 3: 162.450
Channel 4: 162.475
Channel 5: 162.500
Channel 6: 162.525
Channel 7: 162.550
Sensitivity

At 12 dB S/N: 0.4 uV

Spurious

> 40 dB
General
| | |
| --- | --- |
| Channels | 40 |
| Frequency Range | 26.965–27.405 MHz |
| Modulation | AM |
| Antenna Impedance | 50 Ohms |
| Loudspeaker | 8 Ohms |
| Microphone | 1000 Ohms, electret |
| Speaker | Built-in speaker |
| Connectors | 4-pin microphone connector, antenna, PA jack, external speaker jack |
| Power Supply | 13.8 VDC |
| Electrical System Type | Negatively grounded |
| Dimensions | 4.9 x 6.5 x 1.5" (12.4 x 16.5 x 3.8 cm) |
| Weight | 1.6 lb (0.7 kg) |
Packaging Info
| | |
| --- | --- |
| Package Weight | 2.45 lb |
| Box Dimensions (LxWxH) | 9.6 x 9.3 x 2.5" |