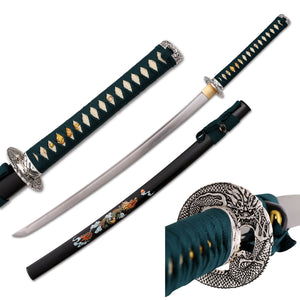 VARIETY AND VALUE: With a broad selection of styles and colors, you'll find a sword to match your style at an affordable price suited to fantasy cosplay and serious training alike.
MASTERFULLY REPLICATED: Design in partnership with traditional artisans, these swords combine centuries of history with modern techniques to deliver a high quality, durable, reliable and beautiful piece of functional art.
UNIQUELY COLLECTABLE: With the finest details, every piece is one of a kind and yours alone. These look great in any display, dojo or man cave.
DIMENSIONS: 28.00-inch Blade, 10.50-inch Handle, 40.00-inch Overall Length.
SPECIAL FEATURES: Oriental Sword – Samurai Sword, Katana, Hand Sharpened 1045 High Carbon Steel Blade with Blood Groove, Green Cord Wrapped Handle with Embossed Wave End Cap, Zinc Alloy Tsuba, Black Scabbard with Dragon Print.