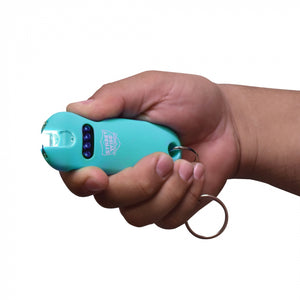 We have smart cars, smartphones, and smart homes. Why not a smart self-defense product? Introducing the Smart 24,000,000* Keychain Stun Gun by Streetwise Security Products. The key to effectively defending yourself with a stun gun is having it easily accessible and being able to activate it quickly. If this is what you have been looking for, your search is over! This is the first stun gun to replace the traditional safety switch with a Touch Sensing Safety that senses when the unit is in your hand in the "stun ready" position and automatically turns off the safety. This saves you valuable time not having to fumble with the switches and buttons required to defend yourself with a traditional stun gun. The patent-pending design also features battery status indicator lights so you will never be caught off guard without a full charge. Unlike most stun guns on the market today, the stun feature can be used while the light is on (other models require you to change from flashlight mode to stun mode). This saves more valuable time when you need to quickly defend yourself.
 FEATURES
The World's first SMART Stun Gun 
Touch Sensing Safety: Senses when the unit is in your hand in the "stun ready" position and automatically turns off the safety.
Half the Size - All the Power: Although the Smart 24,000,000* Keychain Stun Gun is about half the size of a normal stun gun, it has more power than most models on the market today. Just test firing this unit into the air is often enough to stop an attacker.
Attaches to Your Keys: When the need arises to protect yourself, you don't want to be fumbling around to find your stun gun. With it attached to your keys, you don't need to be concerned about it getting stuck at the bottom of your purse. You will have it in your hand when walking to your home or car and will be ready to protect yourself at a moment's notice. 
Quick Release Keychain: Allows for quick and easy removal from your key ring
Battery Status Indicator Lights: Ensures you have a full charge before heading out the door
Easy to Conceal: Easily slips into your pocket or can be concealed in the palm of your hand.
Micro USB Charging Port: Charging the unit is simple. You can use the included USB charging cord in your computers USB port or use your own wall block charger in an electrical outlet or car charger when on the go.
Bright LED Flashlight: The LED flashlight provides a convenient source of light whenever you need it and eliminates the need to carry a heavy, bulky flashlight.
Rubberized Armor Coating: Protects the unit and ensures a firm grip. 
Lifetime Warranty: You can purchase with confidence! The Smart 24,000,000* Keychain Stun Gun is made by Streetwise Security Products, the leader in the stun gun industry, using the highest quality components and comes with a lifetime warranty.
CONTENTS:
Smart 24,000,000* Keychain Stun Gun

 TEAL

USB charging cord

Keychain with quick release

Instructions
*Actual Voltage output is difficult to measure and verify, but this unit compares to other brands that claim to be 24,000,000 or more volts.