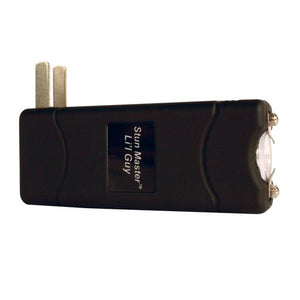 Stun Master Lil Guy 12,000,000 volts Stun Gun W/flashlight and Nylon Holster Black This little stun gun is small, compact, and has 4.4 milliamps of stopping power. It has a super bright LED flashlight built in charger and comes with a nylon case. It also has a rubberized coating for a non slip grip.
It measures only 3 3/4" x 1 1/2" x 3/4". Don't' let the name Stun Master Lil Guy fool you. It has a beast inside just waiting to be released. Just press the shock button and the Lil Guy thrashes 12,000,000 volts out of the metal probes. The safety switch is off when in the down position, middle position is the super bright LED flashlight, and in the up position the shock is turned on once the trigger is pressed.
Available in Black color.