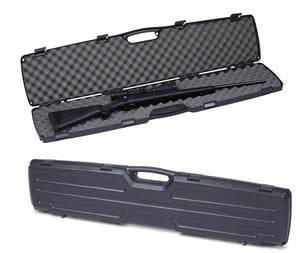 With a rugged look and solid protection for the beginning sportsman, this case carries a single rifle with high-mount 50mm scope. SE Series cases feature contoured recessed latches, padlock tabs for added security and strong, rigid ribbed construction.
Features:
- Recessed handle
- Steel hinge pins for extra durability
- Padlock lockable
Specifications:
- Type: Rifle/Shotgun Case
- Color: Black
- Dimensions: 48.38" x 11" x 3.38"
- Material: Plastic
- Finish: Ribbed