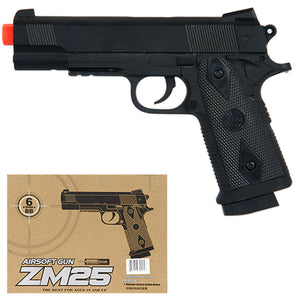 This Item meets all Federal regulations and laws in regards to purchase and sales of an airsoft gun, or airsoft accessory.
Included in Box
CYMA ZM25 M1911 Replica Spring Airsoft Gun
Sample Pack of bbs
Magazine ( 9 Rounds )
Features:
Spring Function, for easy use

Metal Body Construction with some ABS parts

FULL METAL zinc alloy shell for very realistic feel

225 FPS w .12g bbs

Just shy of 7" in length
All guns sold have a PERMANENTLY ATTACHED blaze orange tip in full compliance with federal law. Airsoft guns can not fire live rounds, and can not be converted into firing live rounds. Accessories sold are made for airsoft use only. By purchasing this Airsoft gun, accessory, or gear, you AGREE that you are at least 18 years of age, and are making this purchase legally and in full compliance with local, state, and federal law.