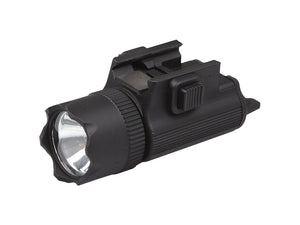 Tactical ergonomic lightweight design
Durable polymer construction
Tactical on/off switch
Black
Incl. (2) CR123A batteries, hat clip, and instruction manual
The ASG Super Xenon 80 Lumen Tactical Rail Mounted Flashlight with hat clip is an effective solution to low lighting situations. It quickly mounts onto any 20mm rail integration system (RIS). Just slide it on while pushing the locking buttons on either side of the light. This means you can attach it to any railed airsoft pistol. The power selector is at finger distance when attached to a pistol and is easily switched on or off with a narrow finger movement either up or down. This type of switch is great because it allows you to activate your light without removing your finger off the trigger guard or divert your attention on what's ahead of you while fumbling to find a switch (in the dark).