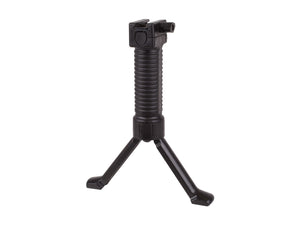 ASG Vertical Front Grip With Spring Loaded Bipod
Easy-access push release button for fast deployment
Smooth folding action restores the bipod legs
Impact resistant
Weight carrying legs for reliable performance
Textured, all-terrain bipod feet for stable performance
Rapid transition from a solid grip to rugged bipod
Bipod offers great handling & solid hand support
Quick-detach lever lock mounting base
Fits on all standard 21mm rail systems
5.1" grip height, extends to 8" when bipod is deployed
Fiberglass material
12.15 oz
This vertical front features a spring-loaded bipod hidden inside. The removable hand grip easily fits on any standard 21mm rail system. A convenient button located on the top of the grip releases the bi-pod, that springs out and locks in place.