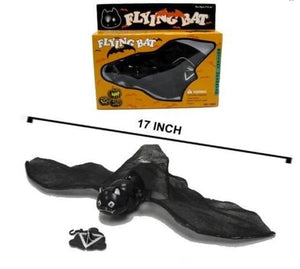 GREAT FOR BAT LOVERS !!!!
THIS ONE FLYS !!!!
HAS LIGHT UP EYES
REQUIRES 2 AA BATTERIES
FUN FOR ALL AGES 
FLYS AROUND IN ABOUT A 8 FOOT DIAMETER CIRCLE
FLIES AROUND AND AROUND
SUSPENDED CONTINUOUS FLYING ACTION
FLAPPING WINGS MAKES THIS ONE KEEP FLYING
REALISTIC FLYING MOTION

WINGS ARE RECTRACTABLE FOR EASY STORAGE
COMES WITH HANGING HARDWARE
CAN BE HUNG ALMOST ANYWHERE
HAS ABOUT A 17 INCH WING SPAN
ABOUT A 8 INCH BAT 
YOU HAVE FUN WITH THESE
WATCH OUT FOR THE FLYING BAT !!!!!