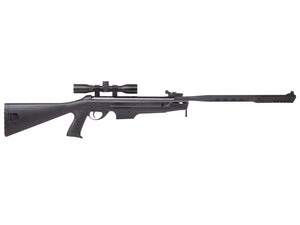 Crosman Diamondback SBD Air Rifle, NP Elite
.22 CAL Nitro Piston Elite (gas piston)
950FPS (.22)
Breakbarrel
Single-shot
Rifled steel barrel
Adjustable 2-stage trigger CBT=Clean Break Trigger
Front and rear sights
11 Dovetail rail
Manual safety
All-weather black synthetic stock
SBD sound suppression system (Gold Level)
Sling mounts (rear post/front loop)
Includes CenterPoint 4x32 scope
Benefits of the Nitro Piston over a metal mainspring:
Smoother cocking
Smoother shooting
No spring torque
No spring fatigue, even if left cocked for hours
Functions perfectly in cold weather
Lasts longer than a metal spring
Poised and ready to strike, the Crosman Diamondback brings silenced shooting to your plinking sessions and lethal hits to small game.
Featuring Crosman's latest airgun tech, the Diamondback offers an improved Silencing Barrel Device (SBD), an innovative suppressor design that keeps its shots 3x quieter than other breakbarrels in its class.  The Diamondback also includes Crosman's latest gas piston technology, the Nitro Piston Elite–a powerplant reported to provide shooters with 15% more speed, 35% more power, and 2x the accuracy of standard gas pistons. This improved power system translates impressive 29 FPE in .22.
All these additions are set into an all-weather stock with a pistol style grip, this breakbarrel includes integrated sling mounts for easy transportation with the addition of a sling (not included).  For optics, the Diamondback offers a lot of choices with its open sights for out-of-the-box shooting and the included CenterPoint® 4x32 mm scope for the 11mm Dovetail. Release all this energy with Crosman's Clean Break Trigger (CBT), a 2-stage adjustable that can be customized to your preferred pull.  Once ready to fire, you can expect lead pellet velocities from 950FPS in .22 with lead pellets.
If you want an easy-to-use backyard that keeps shots high-powered and quiet, choose the Diamondback and sling hard-hitting venom at the range!