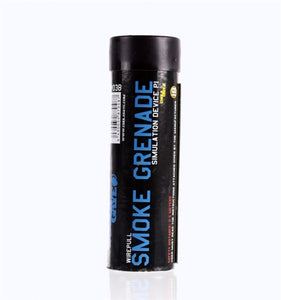 Enola Gaye Wire Pull WP40 Smoke Grenade - Blue
THIS ITEM CAN ONLY BE SHIPPED GROUND
Enola Gaye Blue Wire Pull Smoke Grenades are the best in the business; we set the bar far too high for other pyrotechnic companies to come close. Modest praise indeed; we can not apologise for our lack of humility until another Blue Smoke effect steps up to challenge our work. The moment you see our blue smoke burst into action you will be amazed at the coloured blue cloud that it produces.
However as great as our Blue Smoke is, we are fully aware that a blue smoke bomb is cat nip to some football fans.
Under new Europe regulations Enola Gaye Smoke Grenades are classified P1 pyrotechnic products; this classification allows the user to use the product without needing professional knowledge of pyrotechnics.
BLUE WIRE PULL SMOKE GRENADE WP40
DATA COMPARED TO REST OF ENOLA GAYE SMOKE RANGE (APPROX)
Quantity of Smoke Output
50%
Output Speed
65%
Smoke Density
60%