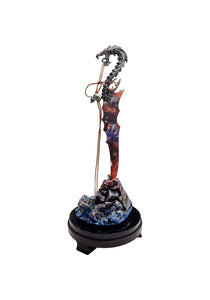 HIGH QUALITY MATERIALS: Made from premium quality materials. 3CR13 stainless steel blade with printed dragon design provide an excellent balance of hardness and corrosion resistance.
FANTASY EVOLVED: For the true collector and fantasy aficionado. Offering a wide variety of fantasy wall hangers and collectibles ranging from samurai swords to medieval swords and daggers to the truly outrageous conversation piece. Fantasy Master has been gracing offices, man caves and living rooms for many years!
DEPENDABLE: Provides consistent razor-sharp cutting performance and high durability. A knife you can count on for camping, hiking, backpacking, hunting & fishing, the outdoors, military & tactical needs, DIY activities, survival, self-defense, and emergencies.
DIMENSIONS: 6.00-inch Blade, 9.25-inches Overall. Wood Display Stand: 4.50-inches in Diameter and 4.00-inches Tall.
SPECIAL FEATURES: The Dragon King - Fantasy Dragon Knife with Display: Stainless Steel Blade with Printed Dragon Design, Sculpted Zinc Alloy Dragon Handle with a Skull Trinket. This Knife Comes Complete with a Wood Display Stand.