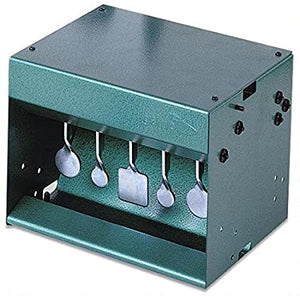 Gamo Rocker Pellet Trap
5 metal paddles
4 paddles flip up when hit -- hitting center paddle resets the other 4
6.50"x6.50"x8"
5 lbs.
For .177-caliber LEAD pellets
Use .177-caliber airguns with a max muzzle velocity of 750 fps
To help prevent ricochet, place trap at least 15 feet from muzzle of gun
Do not use steel BBs or non-lead pellets, as they could damage the trap and increase ricochet.
Lots of fun year round for the whole family. Trap holds pellets until you're ready to empty it. No strings to pull and no need to walk downrange to reset it.