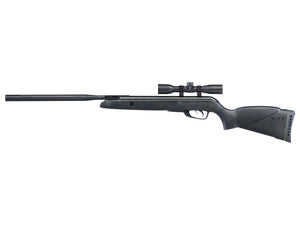 Inert Gas Technology (IGT) gas piston
Breakbarrel
Single-shot
Shoots .22 = 975 fps
Whisper noise suppressing Technology reduces noise by 52%
All-weather synthetic Monte Carlo stock
Ventilated buttpad
Manual trigger safety
Steel jacketed, rifled barrel
Includes 4x32mm scope
Benefits of the IGT over a metal mainspring:
Smoother cocking
Smoother shooting
No spring torque
No spring fatigue, even if you leave it cocked for hours
Functions perfectly in cold weather
Lasts longer than a metal spring
The Gamo Wildcat Whisper Air Rifle features the Gamo Inert Gas Technology (IGT) piston to launch pellets for fast, more consistent shots. You'll notice that gas piston pellet guns are very smooth cocking, they function better in cold weather, and have a longer lifespan than traditional, metal spring powered guns.

With speeds of up to 1350 fps in .177 caliber and 975 fps in .22, this gun is ideal for your small game hunting and pest control needs. And because this gun is outfitted with the Whisper Technology, this ultra quiet rifle is less likely to spook your quarry and more likely to hit your intended target.

Smaller targets are easier to see with the included 4x32 scope.