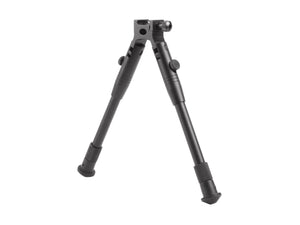 Hatsan Optima Universal Tactical bipod
Aluminum alloy construction
Picatinny mount
Telescoping legs twist to retract/extend
9" to 11" leg lengths
Folding legs
Rubber footpads
10 oz.
Black matte finish
Lighten your load! Attach a bipod and let the front of your air rifle rest on it. No need to carry bulky and heavy shooting bags. The folding legs give you the option of using the bipod or flipping them out of the way.