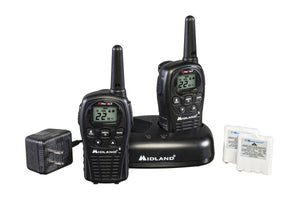 The Midland LXT-500-VP3 is a compact, easy to use two way radio that's great for family outings. The LXT500VP3 has a maximum range of up to 24 miles in optimal conditions (typically less than .5 mile in urban conditions). Its small size and light weight make the LXT500VP3 a perfect choice for situations where size counts more than power.
The LXT500VP3 two way radio supports all 22 FRS and GMRS channels, Hi/Low power settings, channel scan, call alert, auto squelch, silent operation, keypad lock, is water resistant and is certified lead free.
Midland LXT500-VP3 comes with two radios, belt clips, desktop charger, AC wall adapter, rechargeable batteries and a three year warranty from Midland.
Midland LXT500VP3 Features
22 Total Channels
24 Mile Range
7 FRS Channels
8 GMRS Channels
7 Shared FRS/GMRS Channels
Hi/Low Transmit Power
4 "AAA" Batteries or Rechargeable Batteries
Rechargeable Battery Packs Included
Battery Charger
Silent Mode
Call Alert Tone
Channel Scan
Auto Squelch
Roger Beep
Battery Meter
Low Battery Alert
Battery Saver
Keypad Lock
Audible Button Beeps
Drop-In Charge Capable
Water Resistant
Mic and Headphone Jacks
RoHS Compliant (Lead Free)
Three Year Manufacturer Warranty
Included with the Midland LXT500VP3
Two Midland LXT500VP3 Two Way Radios
Desktop Charger
AC Wall Adapter
Rechargeable Batteries
Belt Clips
Owner's Manual