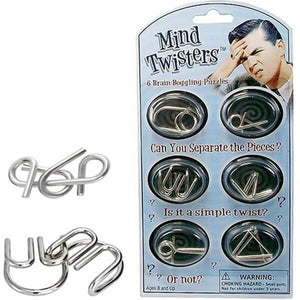 These brain teasers can be the most fun... or your biggest nightmare!  These brain boggling puzzles will put your brain to the test! Can you solve each one? Can you separate each piece successfully? 
Sometimes its more then just a simple twist. Test your wit and brain power and compete with friends! A great way to fight boredom.
A good addition to any home or office! Each puzzle consists of different shapes and strategies. You complete each puzzle by separately each piece.
Styles and shapes vary!