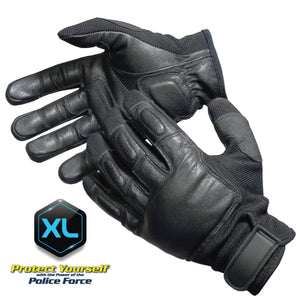 Police Force SAP gloves are self-defense gloves with steel shot inside the knuckle area that improve your punching power. They appear to be ordinary gloves that can be worn in plain sight without causing suspicion. Not only can they protect your from an attacker, they are great for wearing while on cycling to protect from road burn in case of an accident.
Note regarding size: Currently we only offer this glove in XL. As you can see from the measurements above these gloves run a little small in size and will fit the average size male hand.
Features:
8oz. of Steel Shot: This high-quality pair of SAP Gloves has six ounces of steel shot strategically sewn into the knuckles to enhance punching power and protect your knuckles from impact.
Genuine Goatskin Leather: Double-Layered Genuine Goatskin Leather palms for maximum durability.
Breathable Spandex: For comfort & elasticity to fit your hands perfectly. 
Additional Padding: Protects your fingers.
Velcro Strap: Loop Wrist Closure with Velcro for secure fit.
Design: The look and feel of ordinary gloves.
Lifetime Warranty: The SAP Gloves are made by Police Force Tactical of the highest quality components and come with a lifetime warranty.
Contents:
Left & Right Police Force Tactical SAP Gloves - XLarge