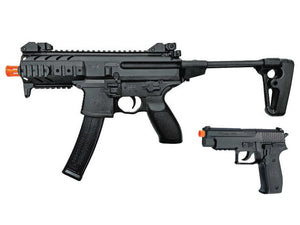 Sig Sauer SIG AIR MPX Spring Rifle Kit w/ P226 Spring Pistol
| | |
| --- | --- |
| Caliber | 6mm |
| Max Velocity | 300 fps |
| Stock | Synthetic |
| Grip | Ambi |
| Color | Black |
SIG Sauer SIG AIR MPX Spring Rifle Kit w/ P226 Spring Pistol
MPX Airsoft Spring Rifle
Single-shot
Removable 3-position adjustable stock
26-round drop free magazine, 500 round reservoir
Molded polymer construction
Ambidextrous manual safety
Max. velocity: 300 FPS
Picatinny optics rail
Front and rear flip-up sights
Picatinny handguard accessory rails
Length (stock removed): 13.78", 17.91"-22.44" with adjustable stock
P226 Airsoft Spring Pistol
Single-shot
12-round magazine capacity
Molded polymer construction
Max. velocity: 270 FPS
Rear slide serrations
Fixed front and rear white dot sights
Picatinny accessory rail under muzzle
The SIG Sauer MPX Spring Rifle Kit with P226 Spring Pistol contains airsoft gun replicas of both the famous submachine gun and the service pistol in a single package. With velocities up to 300 FPS in the rifle and 270 FPS in the pistol, these airsoft guns lend themselves to hours of plinking fun in the backyard.
The rifle comes with a 26-round drop free magazine that includes a 500-round reservoir, which gives users plenty of shooting time without having to worry about reloading, and the pistol has a 12-round magazine. The rifle includes a 3-position removable stock to get various lengths of pull, making this package ideal for properly-supervised children with appropriate safety equipment because of its adjustable size and light weight.
To enhance accuracy, the rifle offers front and rear flip-up sights and a long Picatinny optics rail for adding scopes or dot sights, and the pistol includes fixed front and rear white dot sights. In addition, the rifle has Picatinny accessory rails around the handguard for items such as lights, lasers, and grips, and the pistol has an under-muzzle Picatinny accessory rail as well.
The pistol features serrations in the rear of the slide, and both single-shot airsoft guns use injection molded polymer construction for durability. To get an airsoft package containing replica versions with similar looks and operation to their real steel counterparts, buy the SIG Sauer SIG1 MPX Spring Rifle Kit with P226 Spring Pistol today at SPY GALLERY INC..