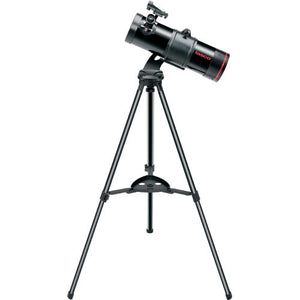 Tasco Spacestation
 

Overview
The Tasco 114mm Spacestation Reflector ST Newtonian telescope is a good choice for serious beginners and intermediate amateur astronomers. Its 4.4" diameter is regarded as excellent for light collection. When you are looking for faint sky objects such as clusters and nebulae, large aperture is an important factor to consider. The 114mm Spacestation Reflector ST features coated glass optics, and is capable of producing crisp and bright images of the moon and the planets. This unit is featured with an altazimuth mount and a rugged, pre-assembled tripod for your viewing pleasure.
Quick and easy no-tool setup
LED electronic Red Dot Starpointer facilitates quick location of celestial objects
Rugged, pre-assembled tripod provides a stable platform
All coated glass optics for clear, crisp images
Accessory tray for convenient storage of accessories
Tasco SkyWatch CD-Rom, 3x barlow, Moon map, Moon filter.
In the Box
Tasco Spacestation 4.5"/114mm Reflector Telescope Kit
Red Dot Finderscope
25mm Eyepiece 1.25" (20x magnification)
10mm eyepiece 1.25" (50x magnification)
4mm eyepiece 1.25" (125x magnification)
Tripod and Accessory Tray
Limited 1-Year Warranty