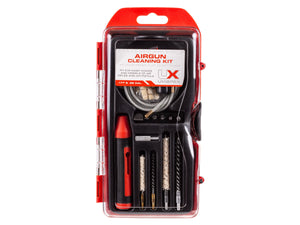 Umarex airgun cleaning kit
For .177-caliber and .22-caliber air rifles and air pistols
Includes 33" flexible cleaning rod, rod handle that converts to a screwdriver, 6-bit driver set (2 flat blades, 2 Phillips, 1 3mm hex head and 1 4mm hex head), .177-caliber cleaning brush, .22-caliber cleaning brush, .177-caliber mop, .22-caliber mop, 25 cleaning pads, .177/.22-caliber thread adapter, and segmented and hinged hard plastic storage case.
Air guns are a special breed and require special tools to clean them. Aggressive brushes used on firearms are unsuitable and unnecessary for cleaning air rifles and air pistols. Umarex has put together this special airgun-only cleaning kit with all the right tools so you can properly clean your airguns. Just add airgun-approved cleaning and lubing solutions, and you're all set.